A Beginner's Guide to Reading MT5 Charts
The multi-functional platform, MetaTrader 5 (MT5), is a favourite among millions of professional and retail traders alike for its ease of use and breadth of asset classes. It simplifies order placement with the help of analytical tools, research and features that enhance technical analysis, helping traders identify trading opportunities. They can also track the performance of their portfolios on MT5.
MetaTrader 5 supports broken line, sequence of bars and Japanese candlestick charts. Japanese candlestick charts are the most commonly used, since they offer more information than any other single chart at a glance. Here's how you can easily navigate through the user-friendly interface and make best use of its comprehensive set of analytical tools.

View a Chart to Begin
Any chart can be opened by dragging the instrument from the MarketWatch window.
Hold the Ctrl key (Windows) to open a chart in a separate window with the default chart template.
To open the chart in the current window, simply drag the instrument. The previous chart will be deleted by default.
The chart settings of the old chart will be automatically applied to the new chart. The Zoom button allows you to zoom in or out of the chart to gain clarity and precision on the price movements.
Did you know? You can customise the Charts Toolbar to have all the tools you need at just a click away!
Customise the Chart
The Charts Tab on the Options Menu has all the choices you need to customise every aspect of the chart display. It does not impact the overall platform operation, only the way your chosen charts, indicators and objects are displayed. It allows you to enable or disable additional chart features, such as trade history, colour print, dragging of trade levels, preloading open positions and orders, magnet sensitivity, mouse click operations and much more.
Set the Timeframe for Your Charts
You can set the timeframe directly on the chart from the toolbar or the Charts menu, from the menu bar.
MetaTrader 5 allows you to set daily, weekly and monthly timeframes, based on your trading strategy.
Did you know?
You can open 100 currency or stock charts at a time on MT5, with 80 technical indicators and 44 analytical objects, for deeper technical analysis of the most minor price movements.
Find a Desired Chart from the Open Charts
Traders tend to open multiple charts simultaneously, which eventually becomes the habitual way of analysing the markets.
To find a specific chart, simply select the appropriate symbol, an order or an open position in the trade or history section, or an alert related to the chart. The desired chart will blink three times.
Organise Multiple Open Charts
Go to the Window menu in the menu bar
Select the desired chart arrangement types
Create Templates and Profiles
Once you build your chart with all the desired indicators and plugins, your template is ready to be saved. For this:
Click on the Charts tab and select Templates
Click Save Templates
Name and save your template
While templates work for individual charts, you can save the display of multiple charts in a profile. You can create multiple profiles for each of the instruments you wish to trade. For instance, you could have a profile for your forex trades and another for trading indices. So, every time you open a profile, you get a window ready with your chosen indicators and attached to the charts with strategy advisors. Here's how to do this:
Create a window with your choice of charts for the chosen asset
Add desired indicators to the charts
Go to the File tab and select Profiles
Click Save As to name and save your profile


Did you know?
MetaTrader 5 offers 8 types of pending orders and 21 timeframes, ranging from 1 minute to 1 month.
Increasing the Precision
Effective trading requires accuracy of price points, so you can make appropriate trading decisions. Enable exact chart point values on price and time scales with the following steps:
Go to the Line Studies toolbar
Turn on Cross-hair
All the details, such as date, time, bar parametres, volumes, spreads and indicator values, are available in the data window.
Did you know?
You can configure any indicator from the Visualization tab of the Indicator Properties window so that its values are displayed in the Data Window when precision is turned on.
Open an Order
Right click on the instrument of choice in the MarketWatch window
Select New Order
Choose the order type – pending or instant
For a Pending Order
Select the type of order: Buy/Sell limit, Buy/Sell stop, Buy stop/Sell stop limit
Set the price and size of your position
Set the stop loss and take profit levels
Click Place
For an Instant Order
Set the size of your position
Set stop loss and take profit levels
Click Place
One Click Trading with MT5
Speed can determine trading success in a market that fluctuates regularly. One Click trading offers just such agility. But it tends to be a better option for more experienced traders. To enable one-click trading on MT5 to place orders right from the chart display:
Activate one-click trading from the Chart Context Menu
You can hide or unhide the panel by clicking the upward triangle on the top left of the panel
Remember to protect your trades by setting stop loss and take profit limits by dragging the broken limit lines up or down, as desired, on the chart
Instantly sell or buy the desired volumes of the asset by clicking the button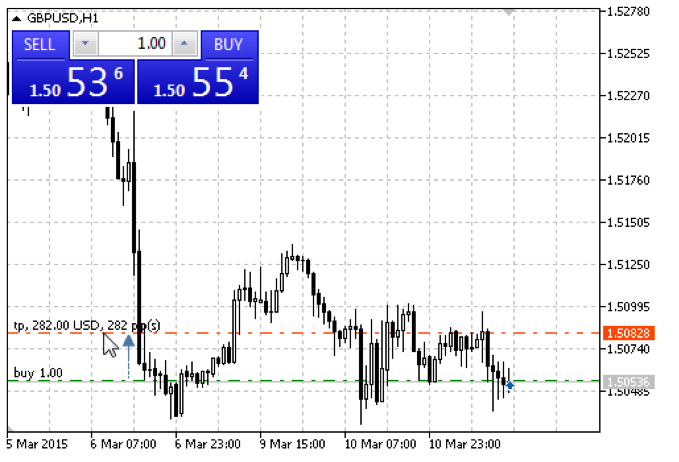 Enable Copy Trading
Beginner traders can benefit from the guidance of their more experienced counterparts. Copy trading is an excellent way to learn from experts. To copy trade on MT5, subscribe to a trading signal with the following steps:
Go to the Showcase section and use the information there, such as the trader's profitability, growth level, etc., to evaluate signal efficiency for your trade
Subscribe to your chosen signal provider
Configure the copying parameters, such as deposit amount, spread value, minimum deposit level to exit a position, etc.
The rest will be taken care of by the platform.
To Sum It Up
MetaTrader 5 is a powerful platform that offers multiple charting and analytic tools.
MT5 offers complete customisability of chart displays, indicators and object usage.
Traders can place different types of orders directly from the charts.
They can also start copy trading right from Day 1 on the platform.
Disclaimer:
All data, information and materials are published and provided "as is" solely for informational purposes only, and is not intended nor should be considered, in any way, as investment advice, recommendations, and/or suggestions for performing any actions with financial instruments. The information and opinions presented do not take into account any particular individual's investment objectives, financial situation or needs, and hence does not constitute as an advice or a recommendation with respect to any investment product. All investors should seek advice from certified financial advisors based on their unique situation before making any investment decisions in accordance to their personal risk appetite. Blackwell Global endeavours to ensure that the information provided is complete and correct, but make no representation as to the actuality, accuracy or completeness of the information. Information, data and opinions may change without notice and Blackwell Global is not obliged to update on the changes. The opinions and views expressed are solely those of the authors and analysts and do not necessarily represent that of Blackwell Global or its management, shareholders, and affiliates. Any projections or views of the market provided may not prove to be accurate. Past performance is not necessarily an indicative of future performance. Blackwell Global assumes no liability for any loss arising directly or indirectly from use of or reliance on such information herein contained. Reproduction of this information, in whole or in part, is not permitted.